The Bassist's Link to Sight Reading – #1 Guide to Understanding Studio Charts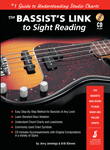 $19.95 BOOK & CD
Buy on Amazon: The Bassist's Link to Sight Reading – #1 Guide to Understanding Studio Charts (Book/CD)
Look Inside the Book / Table of Contents / Testimonials
The Bassist's Link to Sight Reading is for bassists who want a solid start toward reading music. It provides an easy step-by-step method for the beginner reader, without assuming you're a beginner player.
This book/cd contains original compositions of various styles. Its unique approach begins in the fifth position, which is more centered on the neck and on the staff. As you progress through The Bassist's Link to Sight Reading, you will find recordings of songs in various styles, with the melody missing for you to fill in as you read the chart.
The ability to read charts can lead to better paying gigs and studio sessions. It can also greatly enhance productivity at rehearsals. Ever think of a cool riff or melody line, and when you come back to it, it just doesn't sound the same? If you have a way to jot down your ideas, you'll be able to remember them exactly! Learning to read music can only strengthen you as a musician. The Bassist's Link to Sight Reading has made it easier than ever before.