Guitar 1 – Beginner Guitar Instruction!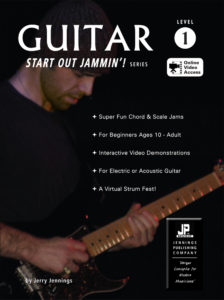 $19.95 – Beginner Guitar Book & Online Videos
Buy on Amazon: Guitar 1 – Start Out Jammin'! (A Beginner Guitar Instruction Book & Online Videos)
Look Inside the Book / Table of Contents / Testimonials
Teach Yourself Chords & Scales | Learn To Master The Basics
Six units covering basic chords, scales, riffs, theory, and strum patterns
In-depth graphics to show you exactly where to position your fingers.
Learn chord charts, songs, rhythmic notation, strum patterns, blues, rock, and power chords.
Periodical quizzes to test your knowledge and ensure you're grasping the material.
We set a solid foundation for learning guitar so you can advance faster!
What's Included in this Beginner Guitar Method Book
This beginner guitar songbook is 48 pages of highly educational material to help you learn the basics of playing the guitar. This is the best book to learn guitar because most other books focus on reading notes. We have you playing songs while learning the fundamentals. This book is about the fun of just STARTING OUT jamming. It plants seeds. Another reason this is the best book for learning guitar is because Guitar 1 Start Out Jammin' gives you an educated jump start in all these areas: learning to play chords, songs, rhythmic notation (which prepares people to read music and learn guitar book), strum patterns, blues, rock, and power chords. The idea is, we're not the typical beginner guitar book. Reading music is there, but it's only a small part of it. This book gets you up and running in several areas of guitar playing faster than any other.
FREE Online Educational Videos
Although this beginner guitar scales and chord book does a fantastic job of guiding you through the process, we also wanted to make sure you can hear the chords to ensure you're playing the right thing. When you purchase the Guitar 1 Start Out Jammin'! beginner guitar chord and scale book you'll have access to all of our accompanying educational videos. There are sixteen in total and cover each of the chapters/units in depth. We also have them on YouTube for easy access and you can watch anywhere you want to – on any device.
A Note From The Publisher – Jerry Jennings
"Hey, I'm Jerry Jennings. I've been teaching guitar for 20 years and have written what I believe to be the absolute very best beginner guitar book ever, Guitar 1 Start Out Jammin'. It comes with Online Videos of me explaining each exercise in detail. If you have a guitar and you haven't played it much because what you learned in lessons was boring, or maybe you never took lessons, I really believe you can finally get past the beginner stage with this book/online videos. Most beginner approaches feel that, in order to be responsible, they must try to teach you how to read at the same time as learning to play. The result? You can only learn songs that fall within your reading ability, Ok today we re going to learn Buffalo Gals… Who wants to spend their time on that? Let's get right to the jamming (as the name implies). How am I able to slough off the importance of reading? I don't. With Guitar 1 Start Out Jammin', you're learning rhythmic notation, which is a much easier task. And it actually prepares you to learn standard notation later. Then, once you've gotten past the basics on guitar, if you want to further your reading, get my first book, The Guitarist's Link to Sight Reading . It's much easier to focus on reading if you re not struggling with how to play your first chord on the guitar. My Promise to You: If you take out your guitar, go online, and open your book, I will do the rest. This will not be another book gathering dust on your shelf, I promise… if you will only commit to getting started, I will get you to the point where you're having fun playing music. If you buy it here, I ll give you a complete 30 day money back guarantee. There is no today only price because it's already priced so incredibly low, you'll probably wish you were paying more. If so, just buy four or five of them and give them as gifts. Problem solved!"
Review #1 – 5 out of 5 Stars
"…explains each lesson, and is relaxed and easy to follow."
When we had the opportunity to review this music curriculum in our homeschool, I jumped at the chance. You see, my teenaged son had just come to me and said he wanted to learn to play guitar. What a great time to put this book/DVD, designed for the total beginner, to the test! Jerry Jennings (guitar instructor of 20+ years and creator of this program) promises that if we will do our part by getting out the guitar and book and popping in the DVD, he will do the rest! He also promises that if the student will just commit to getting started, he will get them to the point where they are having fun with music. It wasn't long before my son was there! Beginning with the very basic parts of the guitar (acoustic and electric), this book goes on to cover note and rest values, chords, rhythmic notation, and how to tune the instrument. The interactive DVD explains each lesson, and it is relaxed and easy to follow. Mr. Jennings is an excellent instructor, calling out each chord and note as the student follows along. He gives plenty of time for each new step and shows diagrams to further explain chords and finger placement. The idea is to learn rhythmic notation, an easier task, instead of standard notation, which can come later. The book has some quizzes, and several songs for practice. The best part is that you can watch each segment as many times as you wish! We have been very pleased with our son s progress on his electric guitar, and he has continued to pursue it. We're looking into the rest of the books that Mr. Jennings has to offer. It is a blessing to have an instructor right there at the touch of a DVD remote! This program is also very reasonably priced at only $17.95. I would highly recommend it to anyone, child or adult, who is interested in playing the guitar and is eager to get past the beginner stage quickly and get right to the jamming. —Product review by Amy Christy, The Old Schoolhouse ® Magazine, LLC
Review #2 – 4.5 out of 5 Stars
"They are short enough to allow the kids to master and gain confidence."
I spent a few hours working through both Guitar 1 Start Out Jammin' and Classic Rock Rudiments for Lead Guitar books/DVD in the last couple of days. I really enjoyed the tunes and the DVD in Guitar 1. I really like the repeats – a lot of books have good tunes but the tracks don't last very long & it is annoying to constantly have to hit replay & wait for a click or an intro again. I enjoyed seeing different kids playing along with the tracks. Classic Rock Rudiments has a lot of super material. Very well explained and demonstrated on the DVD. For the non-guitarist classroom teacher this has terrific material for them to learn before teaching the kids & the video demos really help. I love the "Groove" concept and would love to see more of those – I really liked the idea of shifting them to different tonal centers in the repetitions. They are short enough to allow the kids to master and gain confidence. I would really dig a whole book of these types of things in various styles & tempos. I am a big believer in using as many different materials as I can get my hands on. I would not hesitate to add a class set of these books to put into rotation with my classes. I enjoyed your stuff & will be sure to use it in Teaching Guitar Workshop this summer. —Bob Denney, Canadian Representative for Teaching Guitar Workshop / Clinician
Review #3 – 5 out of 5 Stars
"…when I brought this book home – they haven't stopped playing it."
I spoke with you at the Modesto Conference and bought the Guitar 1 book for my boys (10,12,15). I'm the one with the seven children (6-boys, 1-girl). My sister had picked up a guitar ($5) at a garage sale, and when I brought this book home- they haven't stopped playing it. Your book/DVD are great! Thanks for doing what you do – if you're ever in our neck of the woods – my kids would love to meet you all and I'd love to serve you a meal. Thanks again. –Kathy